---
Cyperus papyrus
Cyperus papyrus is another fine plant to give your garden the flavour of exotic climes. It is not the fastest of growers in cool climates but with a bit of pampering you can have good looking plants growing by the end of the season 2.
For best results grow this plant from seed each year but only plant them out in the garden in their second year. They freely produce seeds in their second year and sometimes even in year one. So after a small investment in a packet of seeds you should be able to grow this plant in perpetuity (although having a greenhouse does help).
Below are a few pictures of the plant growing both in ponds and swamp pots and are taken over a number of years. If you like what you see, links to the intricacies of growing this plant are at the bottom of the page.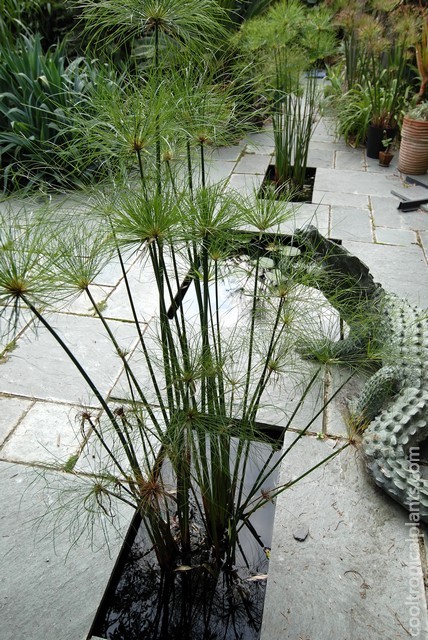 Growing in the pond in the 'Sun trap patio'.
Cyperus papyrus growing in pots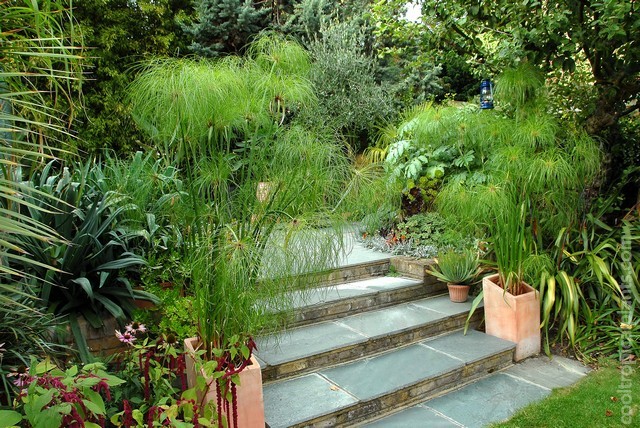 Here growing in soil filled swamp pots on the stairs leading to the famous patio. The plant grows well in soil filled swamp pots but over wintering is a bit more involved.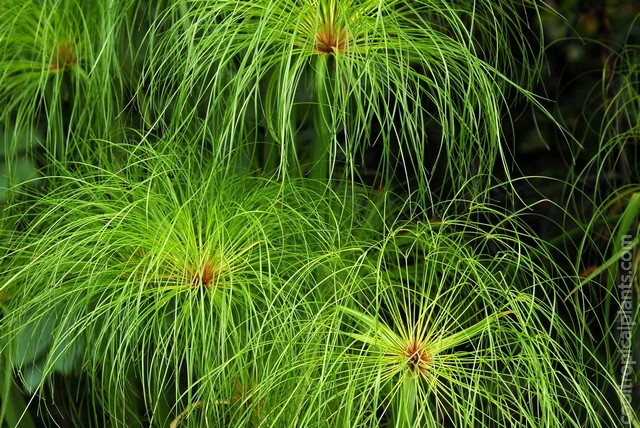 Cyperus papyrus umbels (apparently what the fluffy bits are called!) These look particulary nice when back lit by the setting sun.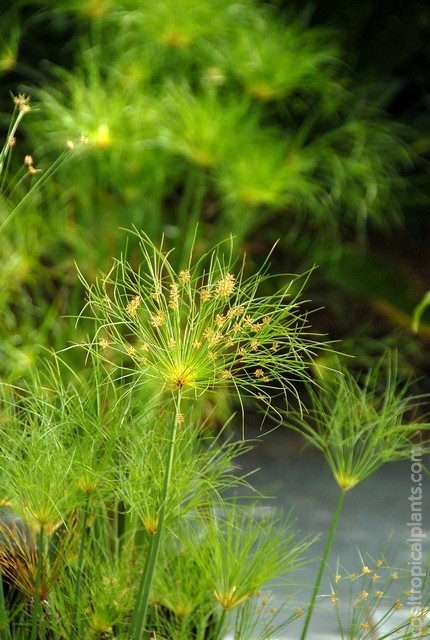 Seed development on the umbels.
Here the plants are growing in the wildlife pond. The pond does receive full sun at noon in mid-summer and the setting sun also strikes for an hour or so. Plants grown here were definitely less impressive than plants grown in full sun. The glossy leaved plants to the right are Farfugium japonicum, a good looking plant but prone to slug and snail damage when they emerge in the spring.
The challenge with growing Cyperus papyrus is that it generally looks most impressive in its second year of growth. The plant does not exactly fly out of the blocks in the looks department in the spring either. This could possibly explain why it is hard to find this plant for sale at the beginning of the season. They do turn up occasionally towards the end of the season, luring you to buy them with their controlled culture perfection only to look like they have been dragged through a hedge backwards come the spring.
Fortunately Cyperus papyrus are easy to grow from seeds. One possible method is outlined here:
Growing Cyperus papyrus from seed.
---