---
Propagating dahlia tubers
Different varieties of dahlias, as with canna, have varying degrees of bulking up. Some varieties bulk up quickly and can be divided each year, others take a bit longer.
In the olden days it was always recommended that the old tuber should not be replanted but simply used as a source of material for cuttings. This was done to avoid the transmission of viruses.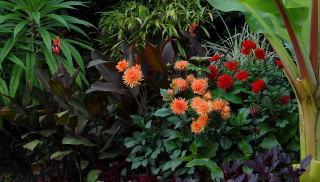 Why bother to divide the tubers? If the tubers are left in tact, they produce so many stems and subsequently flowers, that there can be a bit of a dahlia over-kill. The dahlia tuber shown in the top picture, produced all of the orange flowers in this shot. Whilst not unpleasant in itself, they were a little over bearing when viewing the border as a whole.
.
Some suggest that the best way to divide dahlia tubers is to wait until buds begin to form. The tubers are then cut into sections with at least one developing bud.
Or....
Congested dahlia tubers are almost like a collection of hands stuck on top of each other. Hold the tuber with both hands and twist (gently) back and forth, as if you were twisting a Rubik's cube. There seem to be natural fracture lines and with a bit of practice, the tuber comes apart into different sections, each with a piece of old stem attached. Some varieties are more obliging than others. So the section above (a not particularly obliging variety), was twisted and pulled apart to produce this lot:
The sections are allowed heal for a few days and then potted up in a clean pot with fresh potting compost. The pots are then placed on a heated mat to give them a kick start.
Do not water the plants until they show signs of life.
That's about it really. Again the time to do this is around Easter.
Now all they need is a sunny position in a rich soil and a helping hand from a stake. Watch out for slugs.
Information on taking dahlia cuttings.
Info on Storing tubers
---